OVERVIEW: your dance class options
Please read the following details for the Lindy Hop and Solo Jazz Classes:
LEVELS LINDY HOP
We offer 3 levels with 6 h of classes. Please read the description to decide which level fits best. Due to overlaps it is not possible to attend more than one level (without a time turner :).
Baron and Baroness (Intermediate)
You've been dancing at least a year regularly in classes and socials. You already have quite a few figures like Circle and Swing out in your repertoire and are comfortable dancing them. You're ready to work on style, musicality and want to improve your dancing in general.
Count and Countess (Intermediate/Advanced)
You've been dancing Lindy Hop regularly for at least 2-3 years and you attended many classes and workshops. You enjoy dancing to a wide variety of tempi and rhythms. In your dancing, you have a good connection to your partner and the music. You have a big repertoire of movements and stylings and feel comfortable with your swingout.
Duke and Duchess (Advanced)
You have more than 4 years of swing dancing experience and spend a lot of your time on social dances and (international) dance camps. No matter which tempo or partner, you always have a strong connection to your partner and the music. You spice up your couple dance with many Solo Jazz elements. With this class you're ready to challenge yourself in a fast paced workshop.
LEVELS SOLO JAZZ
We offer 3 separate solo jazz courses with 2 h of class each. The content will be different so you can book all three courses. If you do the Lindy track, you will be able to add one (specific) solo jazz course to spice up your day even more.
Classes will be designed in a way that both experienced and less experienced dancers will be challenged. However, you should have done some Solo Jazz before or gained Solo Jazz experience through your Lindy Hop classes.
Musicality and improvisation
(Also available as an add-on for Lindy Hop Intermediate)
As a solo jazz dancer, we are kind of part of the music and the band. In this class we will learn about musical construction and how to interpret music. This will allow us to better follow the music and improvise. Be prepared to scat and body tap!
Vocabulary and new jazz moves
(Also available as an add-on for Lindy Hop Intermediate/Advanced)
Joyss will be showing us his own creations of jazz moves, inspired by hip hop and afro dances. His purpose is not to dance swing with "modern moves" but to bring own experiences into the dance, just like the old school dancers did in the golden age. Don't miss this great chance to expand your jazz vocabulary and mix styles.
Find your own style
(Also available as an add-on for Lindy Hop Advanced)
Dancing is a lot about expressing yourself. In this class we will let our creativity run. Let's explore our own style by creating our own steps, based on classic jazz moves.
TEACHERS
Pamela and Tadas (Lindy Hop)
Tadas and Pamela met on a dance floor in Lithuania, and for years they enjoyed social dancing as it was. Just before the pandemic hit, they decided to practice here and there, now and then. Oh, little did Tadas and Pamela know that they would have all the time on their hands and that they would start meeting each other every week. And just like that, while sharing an interest and passion for African American dances, their casual dance offs slowly grew into a solid partnership. Now, as the world is slowly coming back on its feet, they have started traveling and competing to share their love for dancing. Tadas and Pamela's classes focus on a personal style, motivation to practice, and surely this powerful magic called IMPROVISATION. They dance to express, to feel and inspire!

Ana and Samu (Lindy Hop)
Originally from Spain, Ana and Samu run their own dance school in Berlin (Rayuela Swing) and have been teaching and dancing together for over 4 years. Their main values are respect for the history of the music and the dance, connection and communication amongst dancers, and self-expression. In their classes they strive for personal feedback, material that can be used way beyond the hours shared in the classroom, and creating an environment where fun, growth and vulnerability can co-exist.

Joyss (Solo Jazz)
Jean-Charles aka Joyss is a professional swing dancer and actor. He originally comes from the hip-hop culture, where the mission of every dancer is to raise your own style and respect all inspirations without taking off any nature of it.
In his classes, Joyss emphasizes improving his students movements by teaching them how to better understand their own bodies. To work with your own body movements will help you grow as a dancer, because it boosts your coordination, balance and expression which helps you to improve your musicality and capacity for improvisation, to find your own style and to never lose the pleasure of learning – skills absolutely crucial for solo and partner dancing.
Locations
Canisiushaus (Franz-Weber-Saal)
Check-In, Parties on Friday, Saturday and Sunday, Workshops Sat/Sun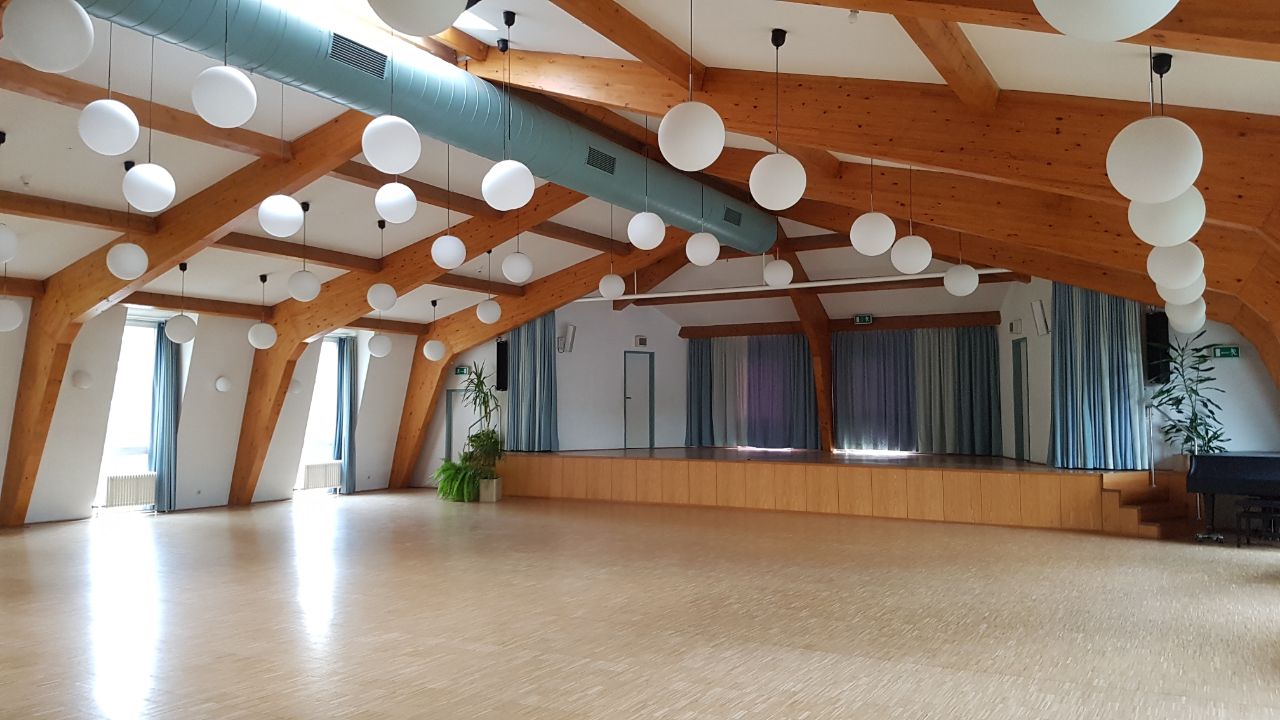 Augartenstraße 51
76137 Karlsruhe
Google Maps
Nebeniusschule (gym)
Workshops Sat/Sun
Nebeniusstr. 22
76137 Karlsruhe
Google Maps
Nebeniusschule (small gym)
Solo-Jazz Workshops Sat/Sun

Nebeniusstr. 22
76137 Karlsruhe
Google Maps
Surroundings
All locations are located in the Südstadt of Karlsruhe, an area which offers many restaurants and cafes, for example:
Palmera Imbiss: Oriental specialties.
Süsse Marie or My heart beats vegan: vegan and vegetarian cuisine
Wirtshaus Wolfsbräu: German cuisine, pizza, salads…
Tropea: Italian cuisine
If you have a little more time, you will find an even greater offer in the nearby city center. After dinner you can take a stroll through the castle park there.
For out-of-towners: Karlsruhe is great to explore by bike – Nextbike or e-scooters are available.
Travel between locations
All locations are about 7 minutes apart by foot.